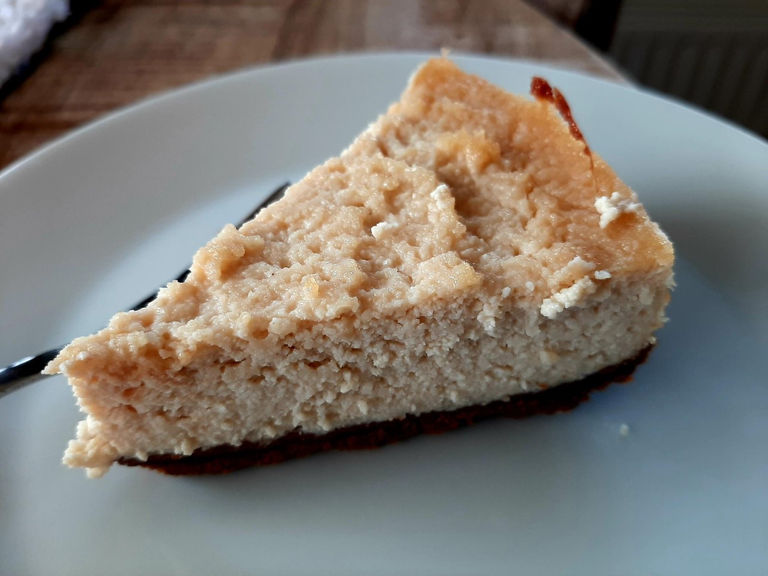 I am working towards making a tasty vegan cheesecake, because I miss cheesecake. This was experiment number two!
My first experiment with a vegan cheesecake was one with plant-based greek yoghurt and vegan cream cheese. The structure was very good on that one, but the recipe I followed was not sweet enough. Not at all. Also, the ingredients are kinda pricey. So for my next try, I used tofu.
Now the one I made yesterday isn't all vegan, but that's the shopper's fault (me)! The cookies for the bottom I used probably contain something like milkpowder or eggs, because that stuff is in EVERYTHING! I had little choice in this shop though, with a moody hubby next to me, but next time, I'll be able to do my research and find the good kinda cookies. The vegan kind. Like Oreo! (Are they still vegan?)
Anyway, this experiment worked out quite well for a first tofu cheesecake. Although the recipe I followed asked for almond extract, which basically made it an almond cheesecake. Next time, I'll try something else, like orange extract, or vegan white chocolate and raspberries. That would probably go great with an oreo bottom.
The consistency of this one is a little more 'crumbly' than the one with the plant-based yoghurt and cream cheese, but I wonder if using silken tofu could solve that. That's not widely available here though, so I have no experience with it yet. I just used the regular kind (and it still tastes good).
Well, here's the base recipe, which I adjusted from this place. I'll just let you pick the cookies for the bottom.
P.S.: I have fought hard against the whole 'cups' measurements (every fudging cup is different, people!), but in this case, I just winged it, so the measurements aren't that precise.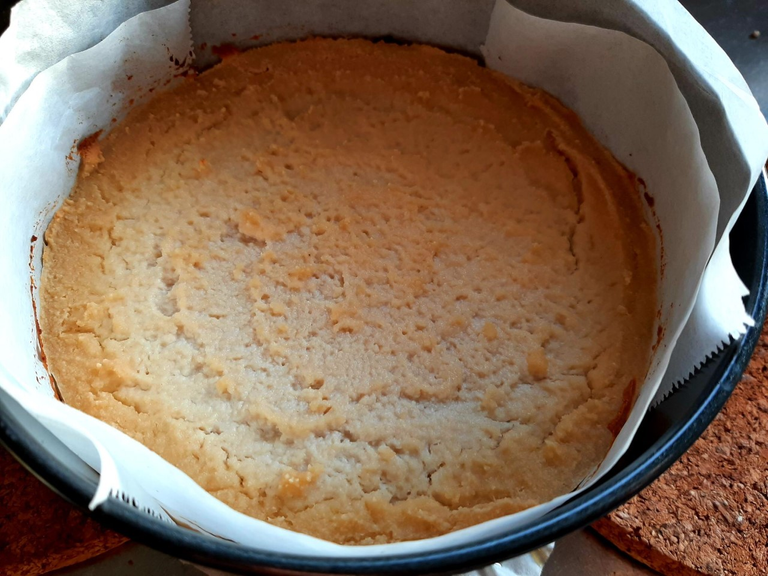 Ingredients
Bottom:
2 cups of your favorite vegan cookies (like oreo)
40g plant-based butter (not needed for oreo's)
Top:
1 Tofu package, bio (~400g)
1/2 Cup sugar
2 Tbsp lemon juice
2 Tbsp cornstarch mixed with water
1 Tbsp vegan milk or yoghurt
1/2 Tsp salt
(optional) 1 Tbsp tahini
(optional) 1/4 almond extract
Directions
Preheat your oven to ~175 C.
Make your bottom by crumbling up your cookies into very tiny pieces (food processor is your friend here). Heat up your plant-based butter a little to make it fluid and then mix in with your cookie crumbles to make them sticky (cookies like oreo's have their own, sticky middle and won't need butter).
Line a small pie pan with baking paper. Press your cookie crumble mixture into your pie pan and press firmly until it is a nice crust. Set aside.
Optionally, us a trick my mum taught me to keep the bottom from getting moist from the filling: You do this by spreading out a thin layer of melted chocolate on top of the bottom. Let this harden in the fridge while you make the filling.
Combine all of the filling ingredients into a food processor and mix until you have a smooth, well combined mixture.
Add the filling to your pie pan and spread it out evenly.
Put your pie pan in the oven for about 30 minutes. Then take it out and let it cool off outside the fridge for an hour or two. Then let it cool off further in the fridge for another two hours.
Enjoy!
---
Check out my
Foodie products
!