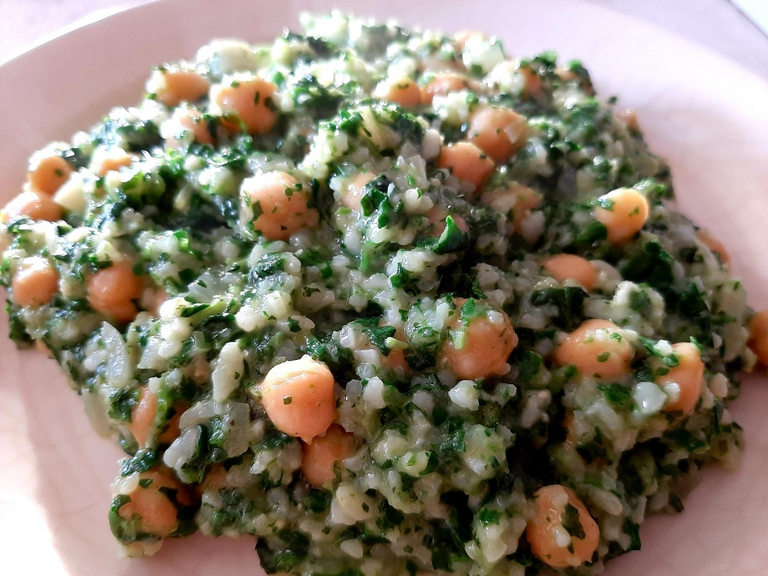 It's food time!
Years ago, when I started this account, I was very much 'into the food'. I did plenty of baking and made some nice dinners and desserts aswell. I'm not sure when this changed, but at some point I found myself without inspiration or even the will to bother much with food. I'm still at that point and inspiration doesn't come around a lot, so whenever I do want something very much, I'm happy, because it means a change from the regular, easy, unimaginative dinners I usually make.
Yesterday was such a time when inspiration hit. I was looking in my pantry and saw loads of chickpeas just standing around. I decided I wanted to make a sort of chickpea risotto!
Ofcourse, once everything was thought out, I found I do not have risotto rice in the house. Oops! I did, however have 'dessert rice', which I'm not sure is a thing outside of the Netherlands, although the English appear to have 'pudding rice', which is probably kind of the same thing. Either way, it's a soft, white rice that holds a lot of fluid, which is basically what I needed as a replacement.
So! I made a 'kind of risotto' not in the way a true risotto is made. But who cares, it was delicious nonetheless!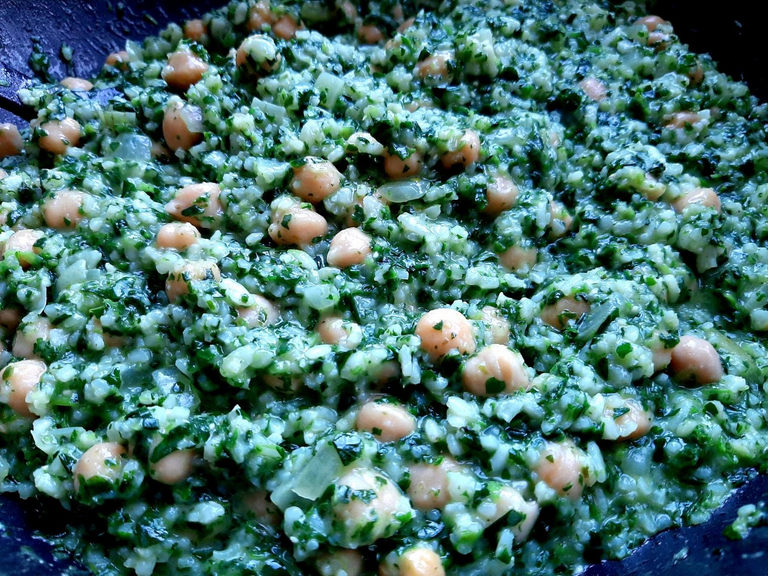 Chickpea Spinach Risotto-ish
This recipe held about 3 servings, so scale up or down accordingly.
Ingredients
400g chickpeas from a can (if you use dried ones, make sure they're pre-cooked)
100g dessert rice (a risotto rice, or a rice that soaks up a lot of fluid)
400g Coconut milk (I used one can)
About 100ml of water / boullion (I threw in some boullion powder)
A Diced onion
3 – 4 Minced garlic cloves
200/300g frozen spinach and/or kale, whichever you prefer or have lying around
A big enough pan/pot, because this is a one-pot dish.
Directions
Put some oil into your pan/pot and heat up your garlic and onion for a couple of minutes.
Add the coconut milk and water/boullion, cover the pan and heat up until boiling.
Add your rice and heat up while stirring occasionally and letting it soak up the fluid.
Once your mixture starts to thicken a little, add the chickpeas and stir again.
A few minutes later, add the frozen vegetables and stir occasionally.
Once the veggies are mixed in well and heated, your dish is ready!
This was definitely a 'let's just try this stuff and see where it goes' kinda thing. I think my ingredient amounts are about right, but if you notice too little fluids by the end, ofcourse, adjust accordingly. Follow the directions, but follow your own instinct aswell! I was a little late with the chickpeas and ended up throwing in the veggies basically at the same time to give them more time to thaw.
I think this dish would be delicious with some mushrooms added in aswell, but I didn't have those lying around. Next time!
Anyway, enjoy!
---
Check out my
Foodie products
!