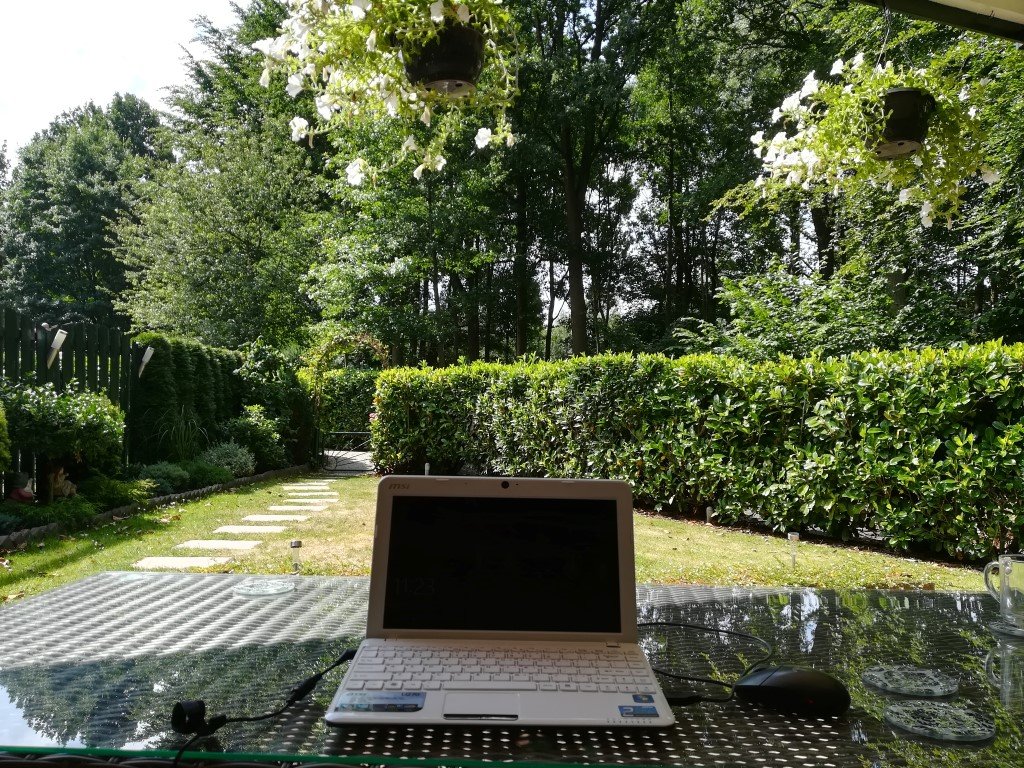 Hi there, I'm able to upload pictures today!
We still don't have regular internet. We'll be able to pick up the box with internet goodies this afternoon, but I'm not sure if the connection will be live right after that. Oficially, we have internet starting the 16th. We'll connect everything sooner though, so we'll see. For now, I'm still on hubby's phone network. I tried to upload a picture and it's working now, so time to show you our new place, aka, my own little slice of heaven!
Inside the house is still a mess, so today, I'm showing you the outside. It is the best part of our now place.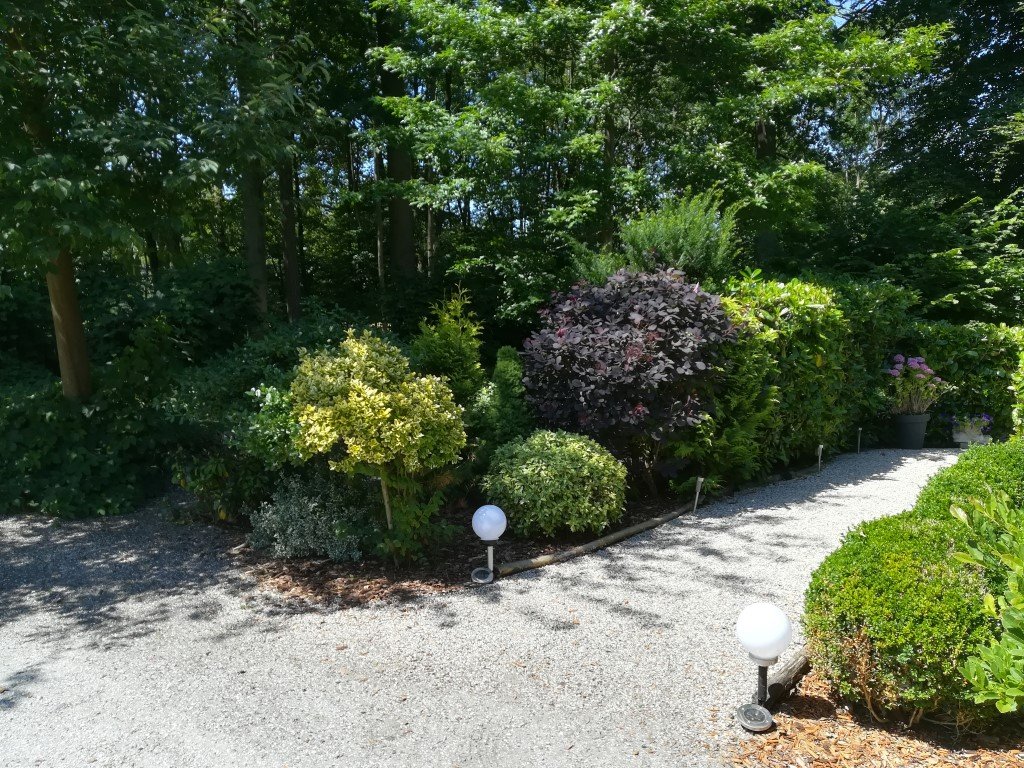 This image shows the entrance to our garden. It's connected to the small path that goes from the parking spaces past the recreational houses to the path all around the park and towards the water, which looks like this: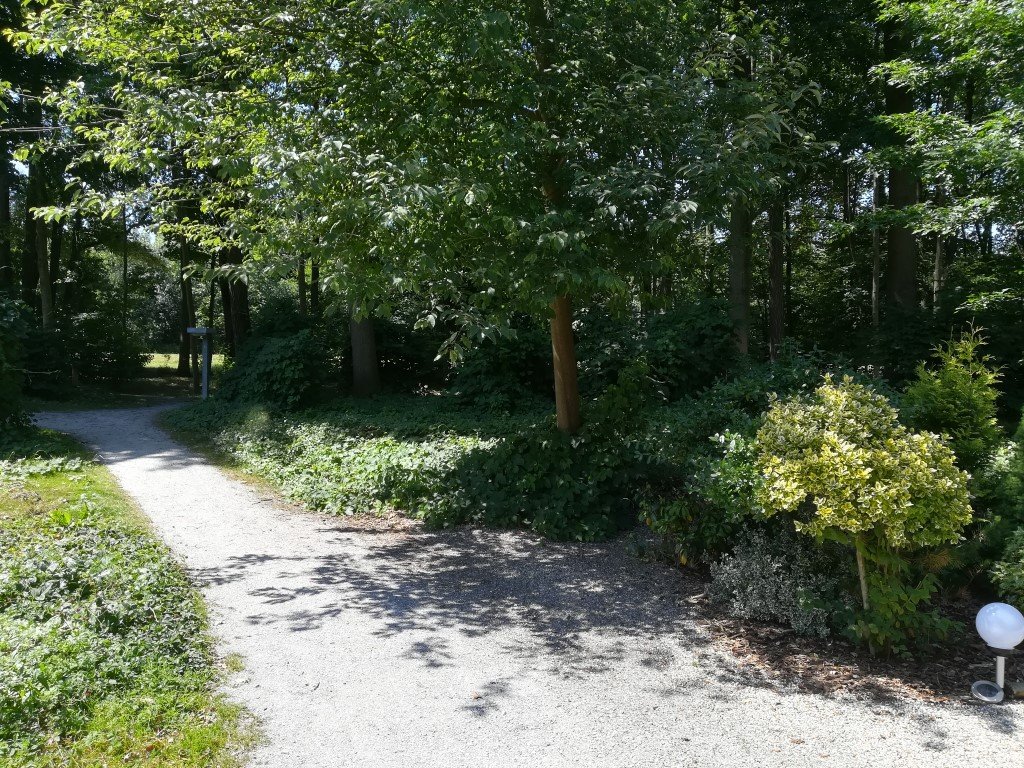 You can imagine it was a bit of a pain to move all of our stuff over such a path! Our home is the last one in the row.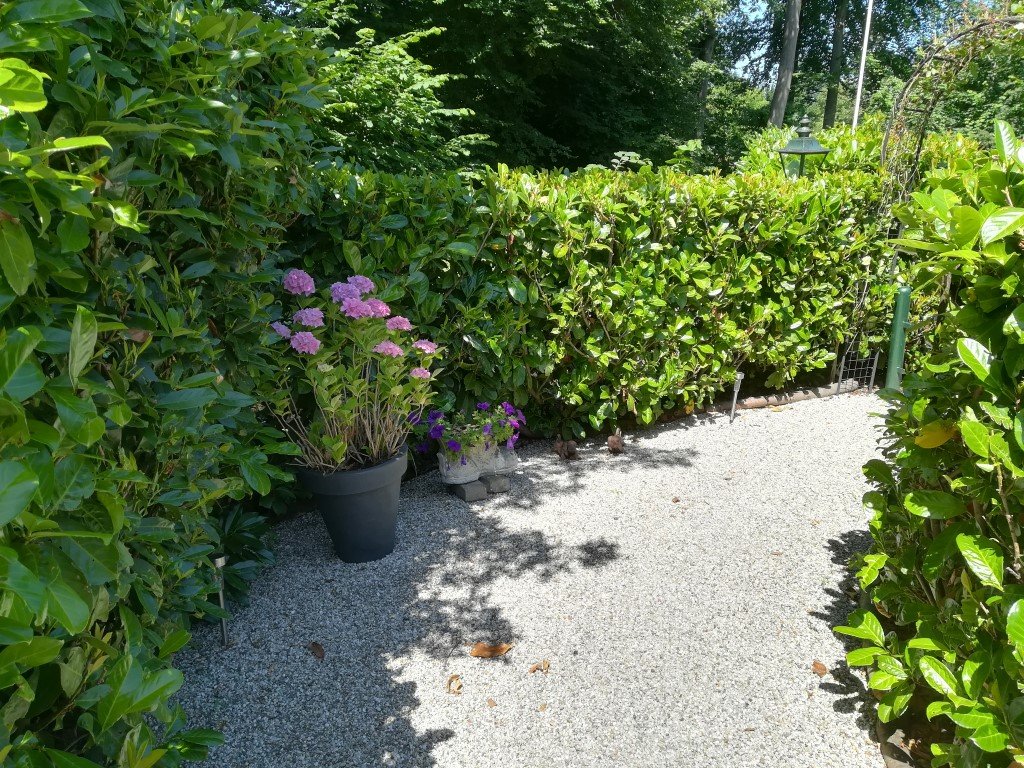 This little entrance way leads up to our frontyard.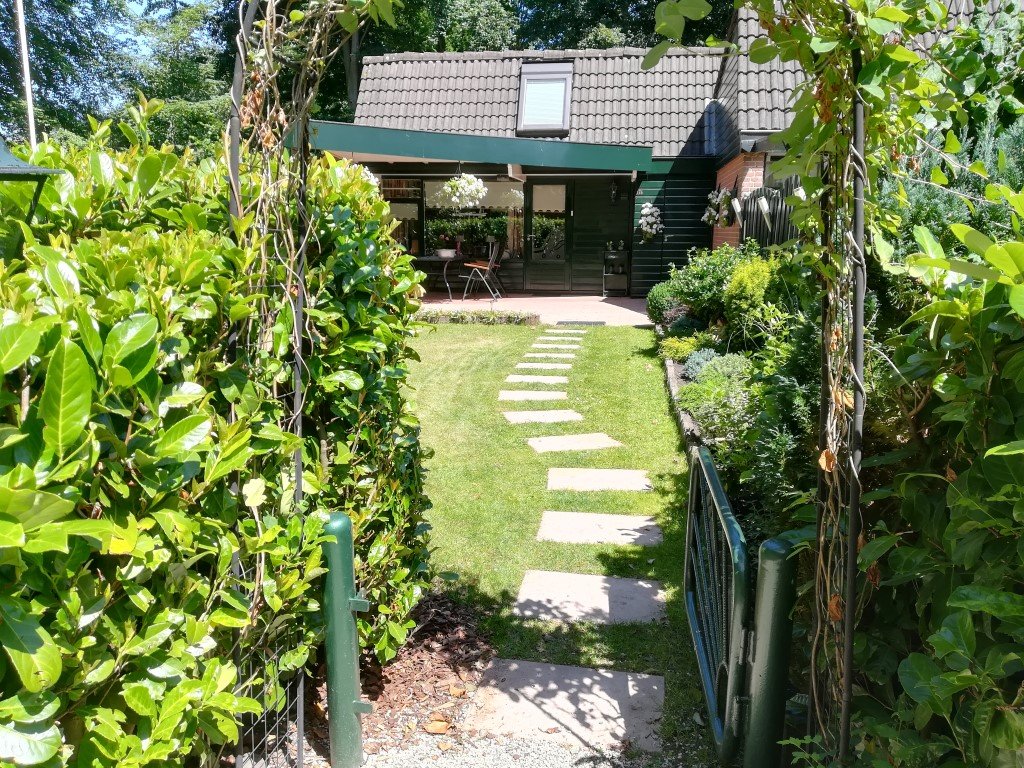 It has loads of privacy and it's the best part of our yard in my opinion. This is where I've spend most of my time so far.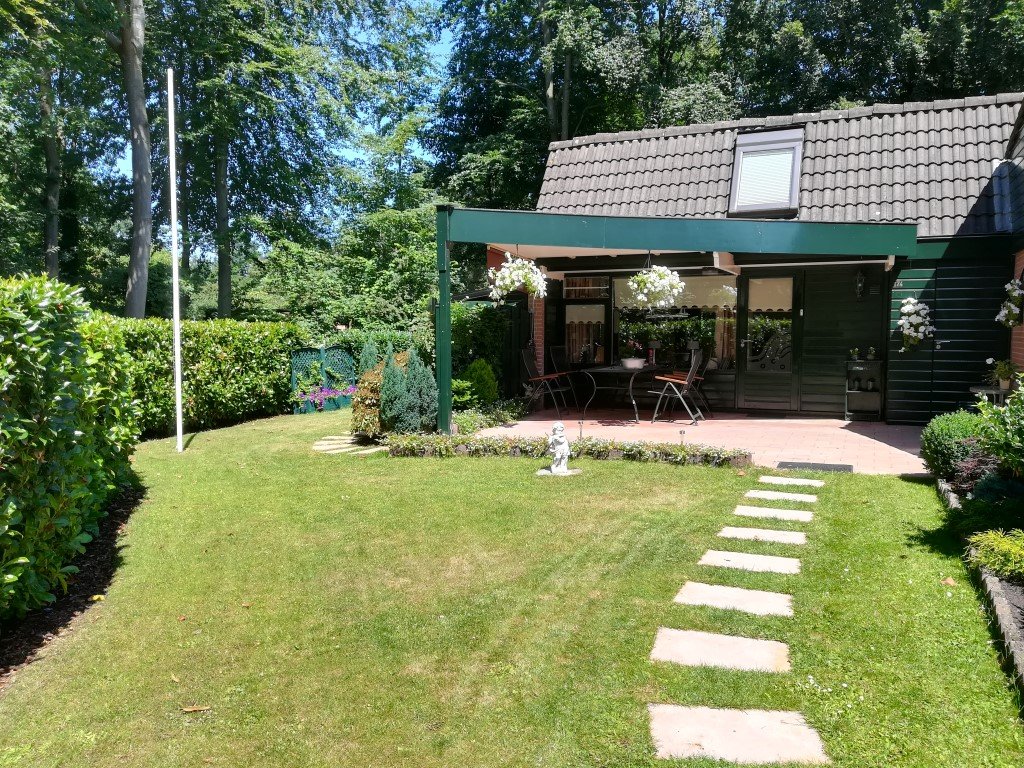 I love this place, because of the big space in front of the house where we can sit dry and in the shade!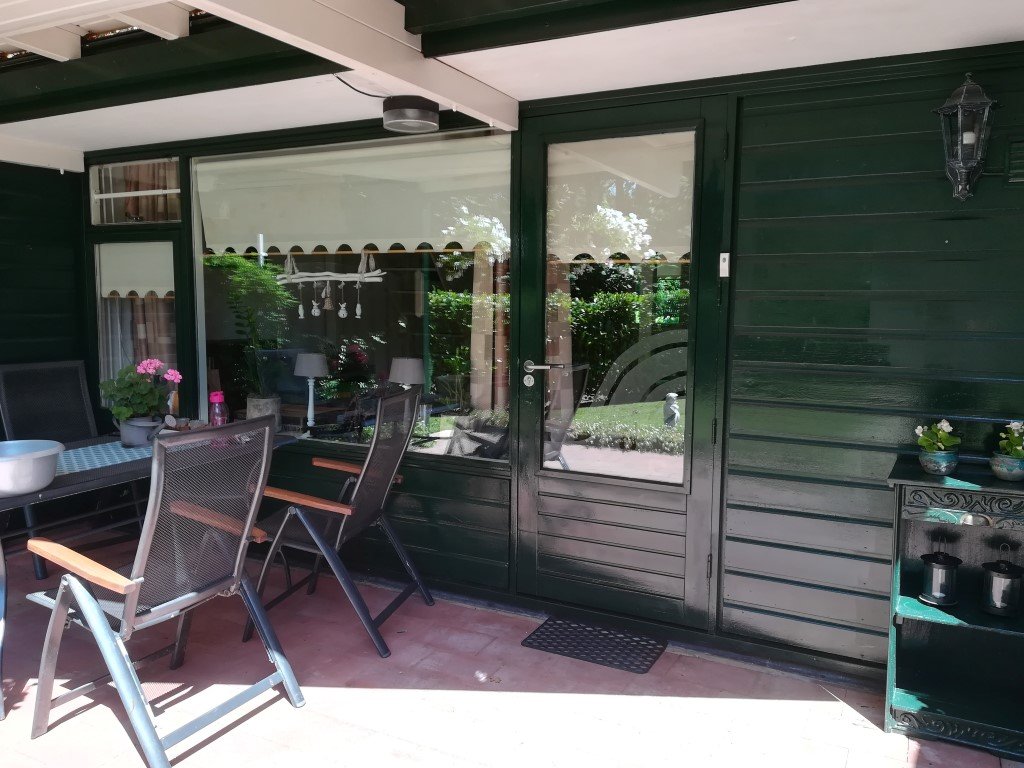 This seating area is awesome! The chairs and tables you see here have since been moved to another spot to make room for our very comfy lounge set.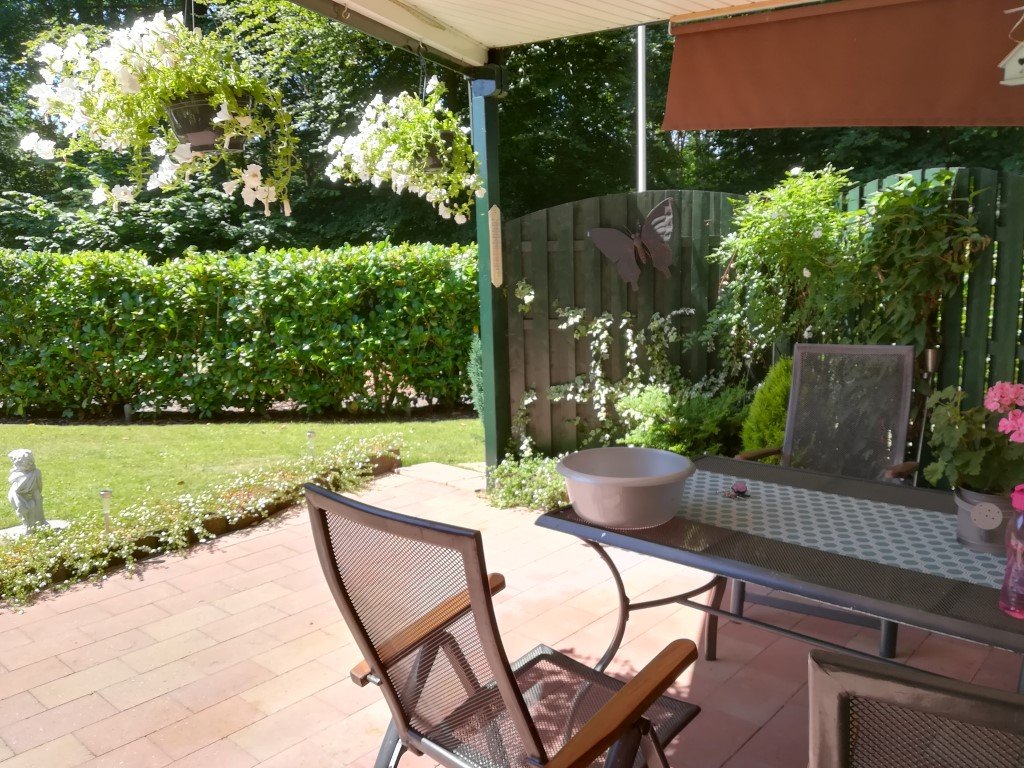 The view from this seating area is amazing!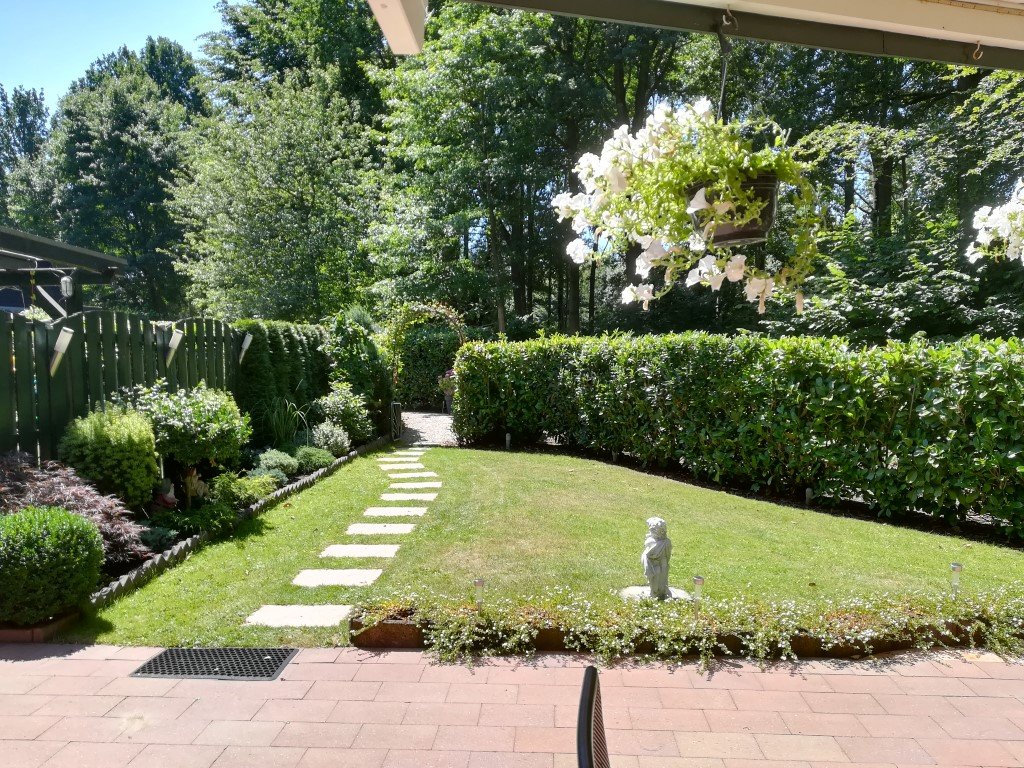 A beautiful garden with a background of trees. Seeing as we have the corner house at the edge of the park, this view of trees is almost all around us with only one side that shows us other homes. It gives us loads of privacy and the feeling of living in the middle of the forest.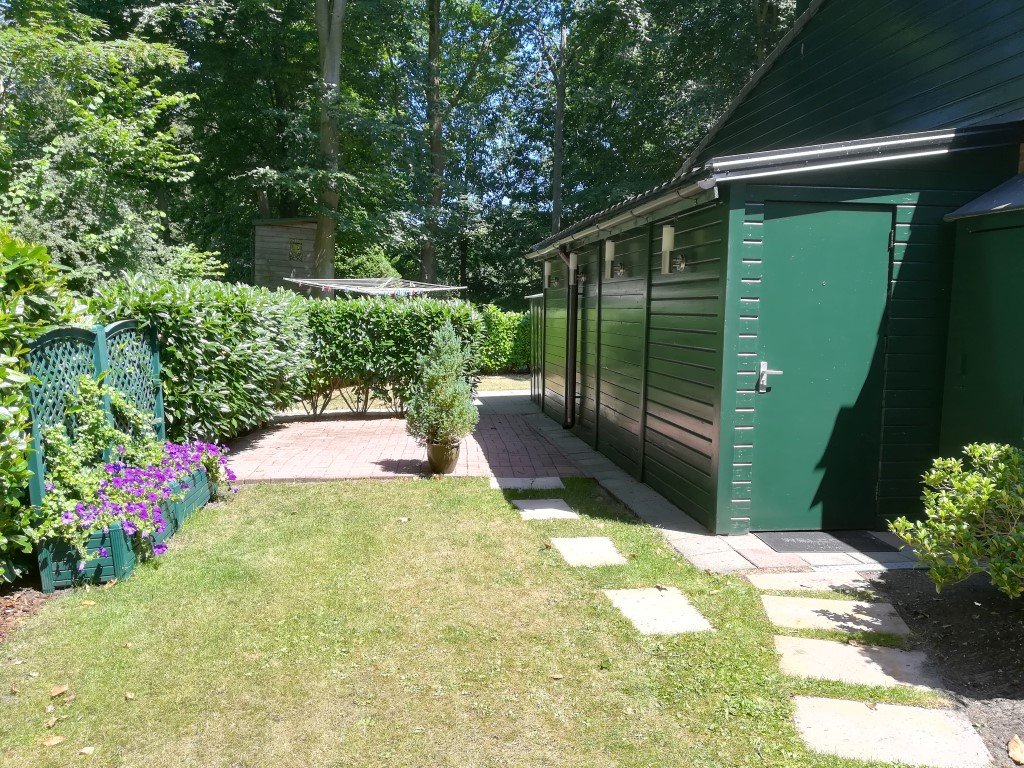 The side of the house also has room for a seating area. It also holds a big storage place where we can store loads of our stuff and our bikes.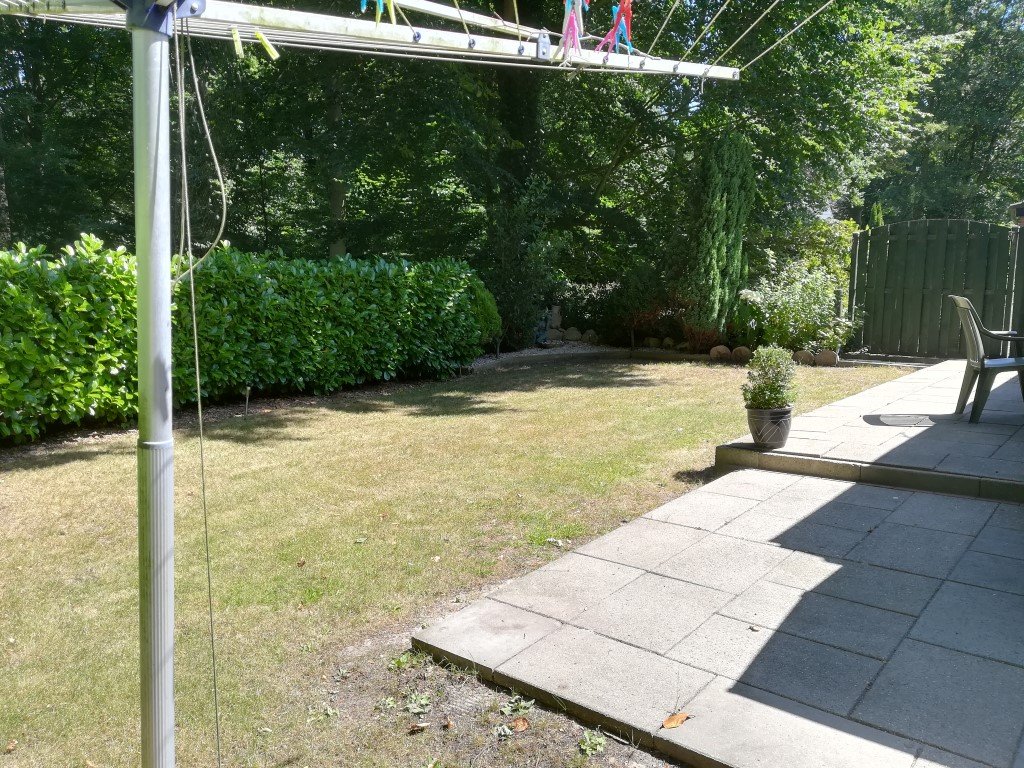 At the back of our house is yet another place for a seating area.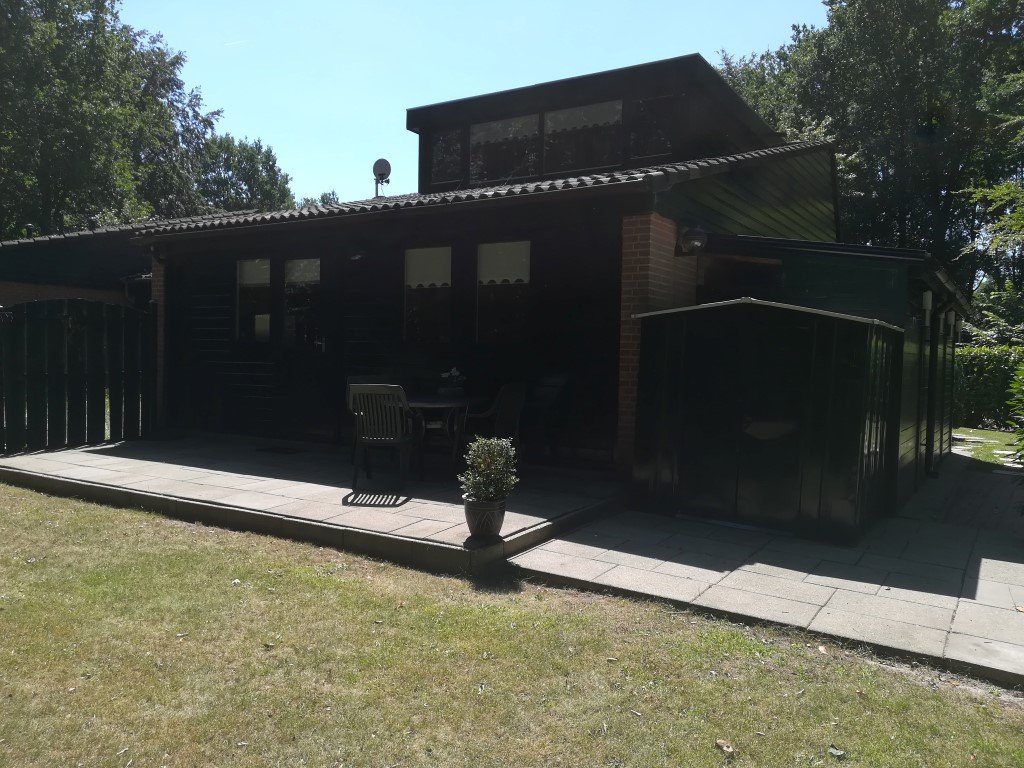 It basically gives us the option to enjoy our place wherever we want and however we want!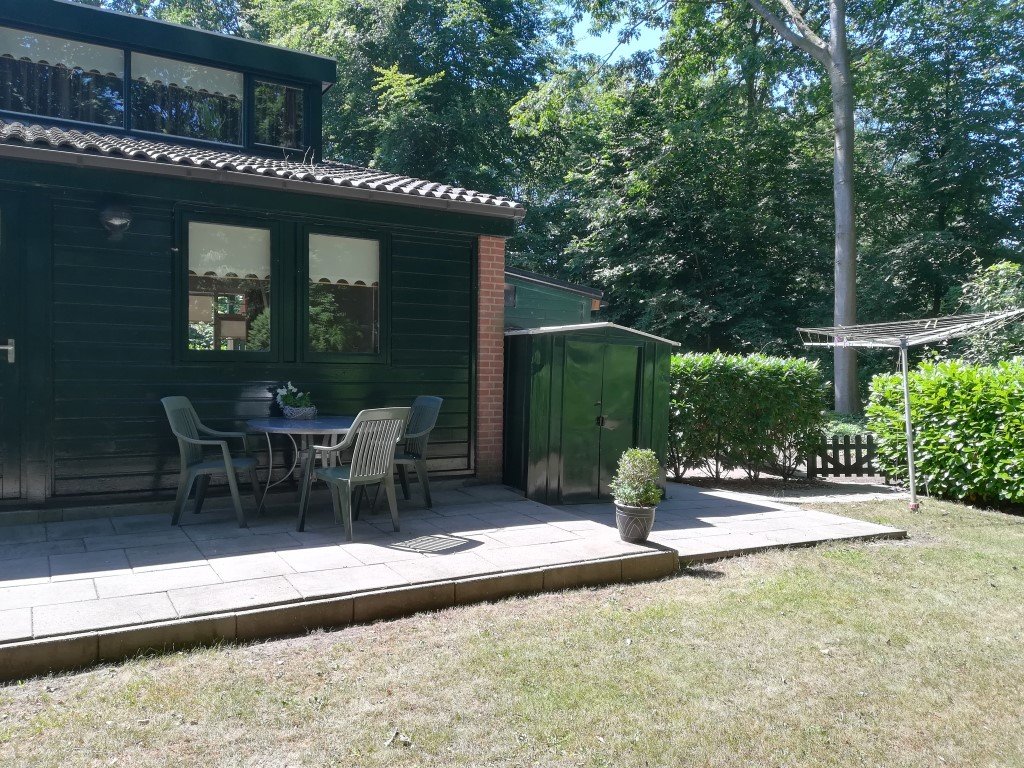 No matter where you are in our garden, there's great views all around! For me atleast, because I love that feeling of being in the forest. We have a lot of privacy and it just feels amazing!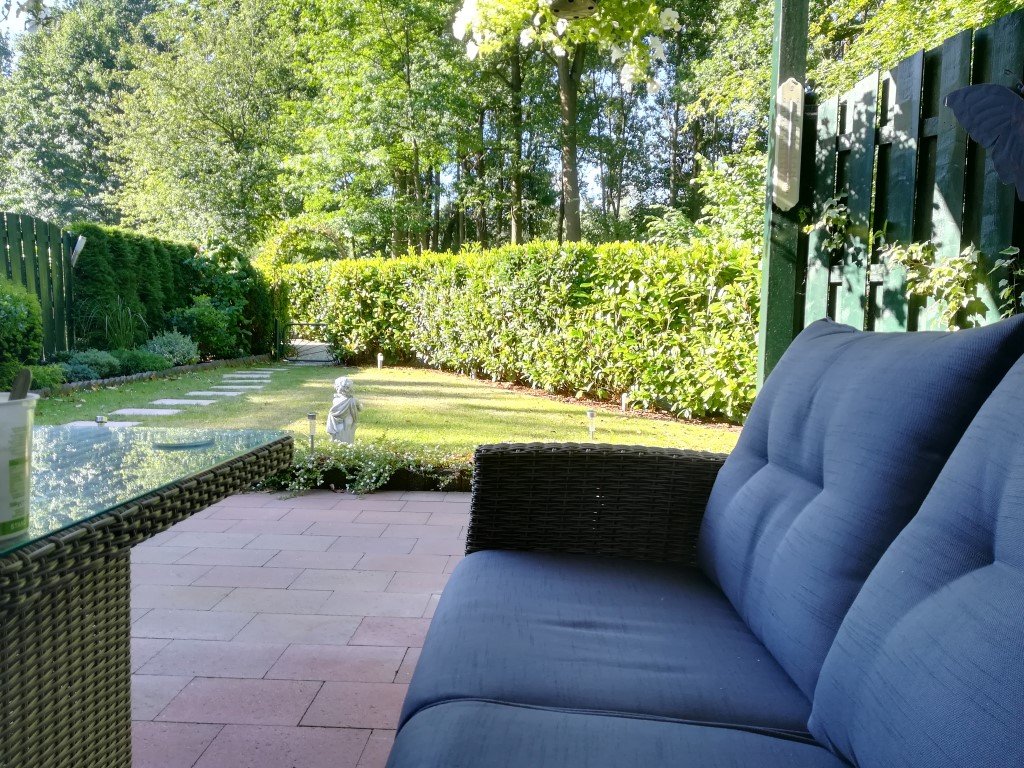 It's all rest and relaxation when you wake up, grab a cup of tea and settle down in the corner of our loungeset. What a great way to start the morning!
I wasn't able to show you last time, because I couldn't upload pictures, but this is how I wrote my previous post: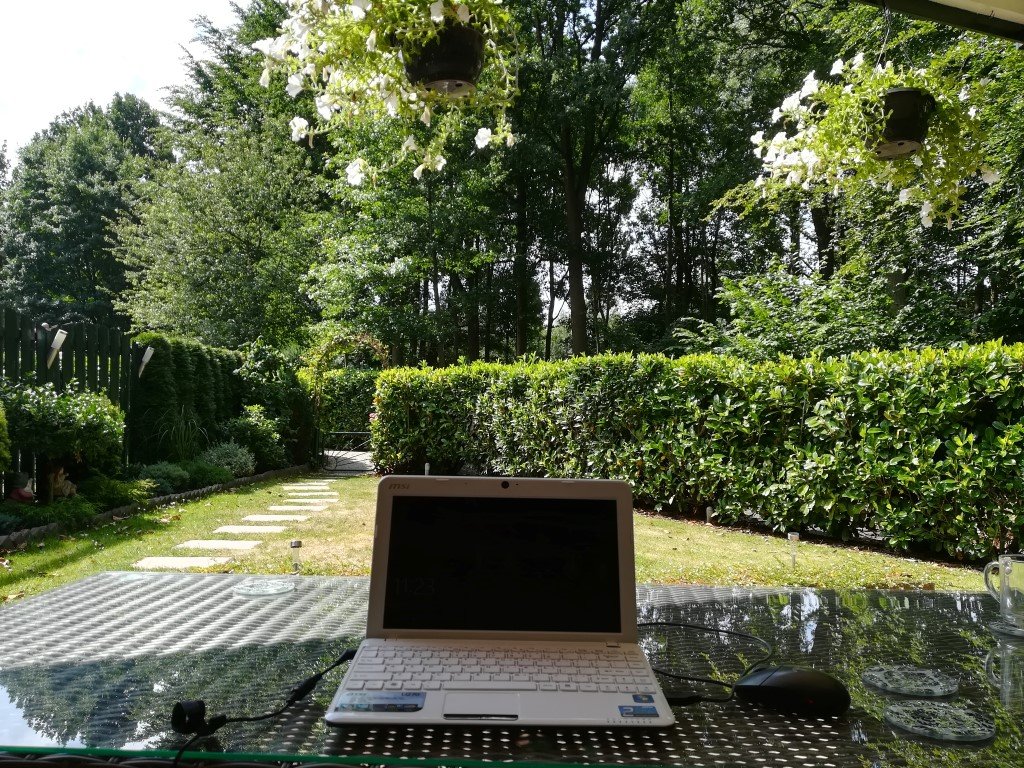 Is there any workspace more lovely than that?
I feel so lucky to live here. I've gone through a couple of crappy places to live, but this house at this location seems too good to be true. And yet, it seems to be our new reality.
We've had beautiful and warm weather all around so far, with the exception of today, which brings a couple of much needed raindrops for the garden. Even with all of this amazing weather, human noises outside are minimal. Sure, you can hear some people talking outside, but not too loud. After 11 in the evening, this park aims for as little noise as possible and so far, people seem to be sticking to that. It means I can sleep with my window open, but without having to use earplugs. The only thing I hear is wind through leaves and birdies singing their songs. I'm amazed that this is possible!
Yes, so far, this place has been paradise for me and I don't think this will change any time soon. I am beyond happy to have found our own little slice of heaven.
---
This article was written months ago and shared on my Steemit blog. Sharing it here now to catch up!