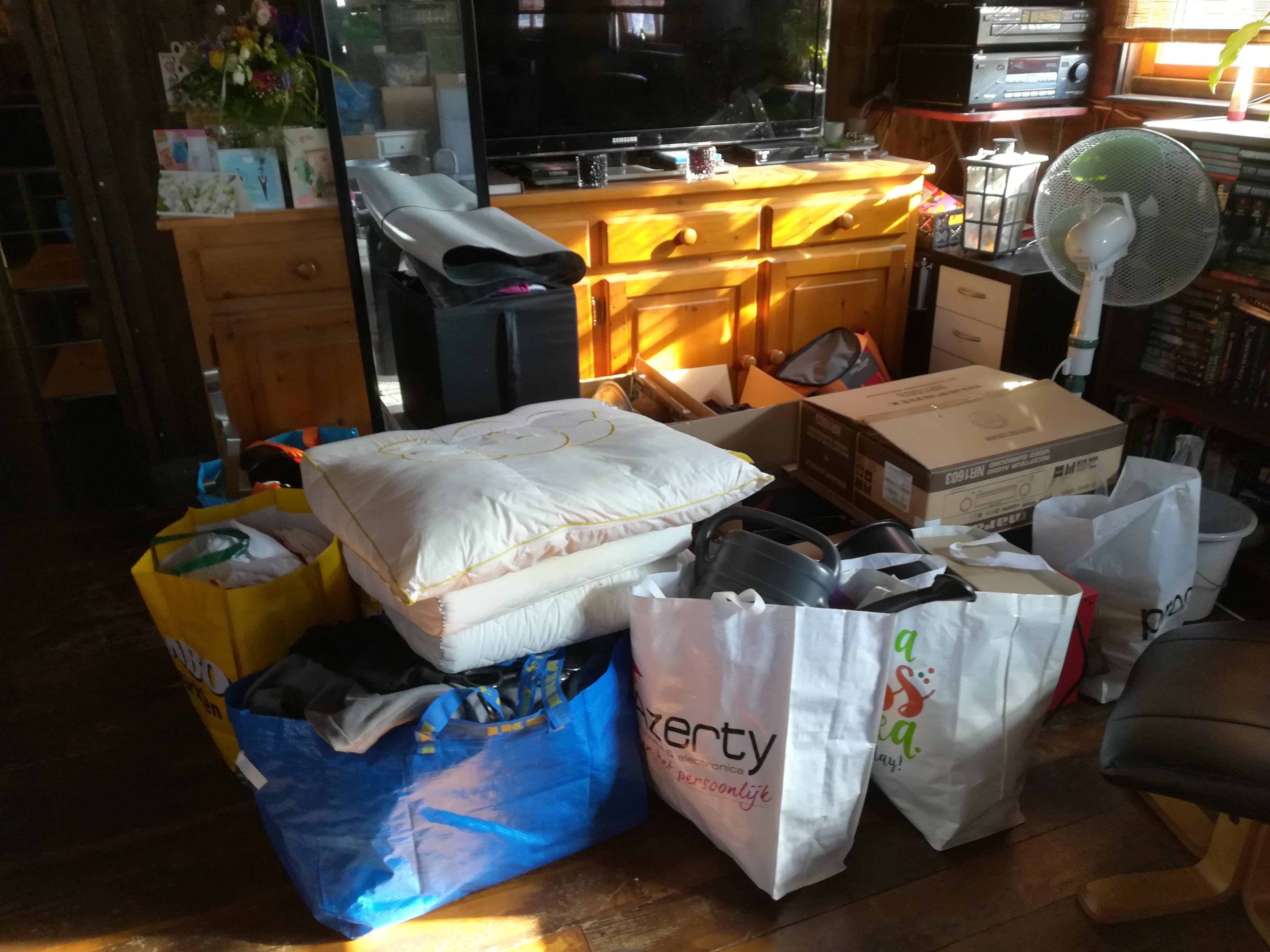 And Foodie completely forgot to take pictures…
I told mister Foodie this morning, I should not forget to take pictures today, like I did yesterday. I forgot again.
Sorry!
So pictures are still on their way. Instead, you'll have to do with alook at our messy home with part of our stuff packed.
It's not nearly everything ofcourse. Sadly.
I'm so tired already!
We got the keys yesterday morning. We visited the house for final inspection and then went to the notary for the official buying/selling part of the day. After that, the house was ours!
The woman selling the house left it in perfect condition. She had tidied up the garden really well and had added a couple of plants to both outside and inside the house to make it look like people were still living there. In addition to the things she was going to leave behind for us, she left even more behind. A cabinet or two, an extra little garden set and another small garden table and even a laundry drying rack. How nice of her, right? I was so happy!
This house, it is awesome. Plenty of places to sit in the shadow and oh my gosh the views! Trees everywhere! We're right at the edge of the park and we're in the middle of nature. Even with a road not too far away, we can't see it because of all of the trees. There's hardly ever a car on it aswell.
So, after the official stuff was over, we headed back over there with a measuring tape to make sure the furniture we wanted would fit. It will fit, but it'll be tight. We decided that's okay though, since we really want this big, comfy couch.
We then headed to Ikea to buy smaller items and also headed over to a hardware store to give our final judgement on the loungeset we want to buy. We took some bug nets thingies with us for our doors and then headed back to our old home.
In the evening, we went back to our new house with my sister in-law and my father in-law. She liked the place, but I think he only saw how busy we would be with the garden. So, not too enthousiastic. Oh well, we're the ones who have to live there.
Today, my mother in-law came over here and we loaded up her van to take over to our new house. We unloaded but decided not to go a second time. It was so hot outside and we were really tired.
Basically, the awesome weather came a couple of days too soon. It's too hot to do much moving, but it would have been perfect to sit outside on our new loungeset.
We'll go again tomorrow, probably by the end of the morning, so I'm pretty sure we'll only do the one trip again. Pretty slow going like that, but can't really help it! My mum will be sleeping over after her course, so she'll finally get to see the house tomorrow evening. She can't wait!
On saturday, my husband will head over to the city with my mother in-law's partner to pick up the couch and loungeset. My mum and I will go to the house to start building the Ikea furniture, while the guys will pick up our bigger furniture.
We're hoping we'll be pretty far along by then, so we can start actually living in our new place. We'll see how it goes.
---
This article was written months ago and shared on my Steemit blog. Sharing it here now to catch up!