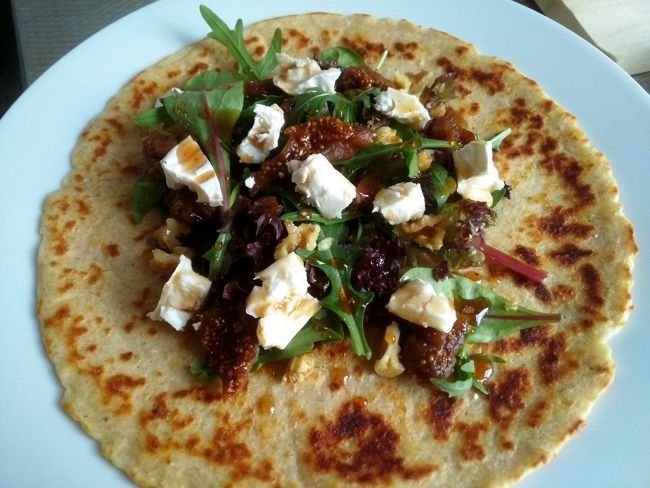 On Steemit, there's a weekly cullinary challenge. I joined it in the week where the challenge was to create crepes.
My entry was  a goat cheese crepe with figs (amongst some other things). It was inspired by a pancake restaurant we visited a while ago. Let's have a look at the recipe! (My images will show half the amount of the ingredients, as I was just cooking this for two.)
Ingredients
For the batter:
125g Flour (250g if you skip the Oatmeal)
125g Oatmeal (optional)
2 eggs
500ml Milk
Pinch of salt
1 Tsp cinnamon (optional)
1 Tsp vanilla exctract (optional)
Butter or oil for baking
For the garnishing:
100g Goat cheese
60g Walnuts
75g Rucola
~6 Dried figs
4 Tbsp Honey
1 1/2 Tbsp Balsamic vinegar
1/2 Tsp Dried and crushed thyme
Roughly chop up the walnuts (don't make them too small).
Cut the dried figs into smaller pieces.

Mix the honey, balsamic vinegar and thyme.

Mix all ingredients for the batter, until there are no lumps left.

Heat up some butter/oil in a skillet on medium fire and pour of the some batter in. When the top has dried, flip the crepe and bake for another few minutes, until nicely brown.

Once all crepes are baked, time to garnish them:

Layer a crepe with some rucola leaves.

Add a bit of the walnuts and figs.
Crumple up some of the goat cheese to top this off.
Sprinkle with the honey mixture.

Done!
I won 4th price with this recipe, which was awesome. I'll definitely join the challenge again in the future.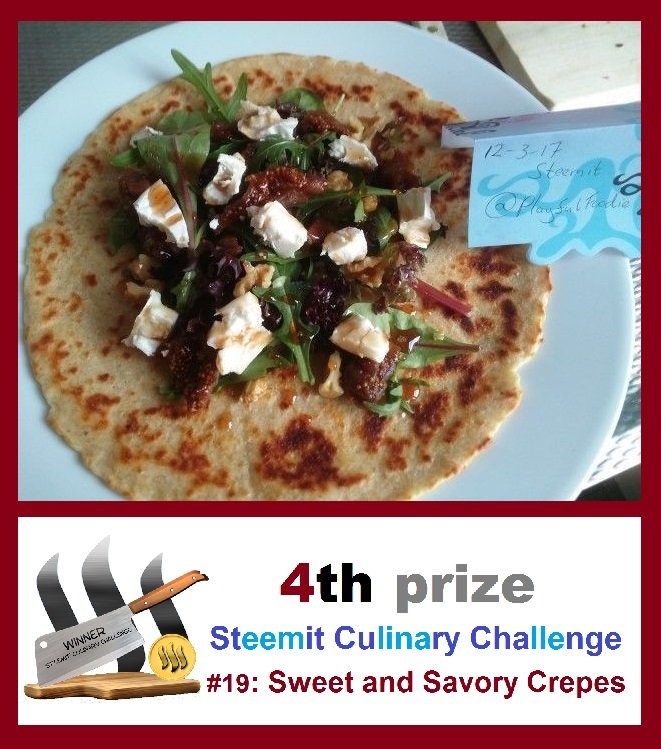 ---
This recipe was first posted on my Steemit page.